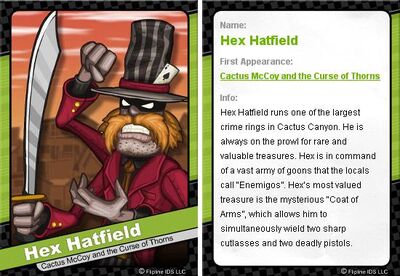 A Flipdeck is 2 cards that tell information on a character in any of Flipline's games. The left card would show a picture of the character with the character's name and the game they first appeared in and the right one showed the name of the character,the game they first appeared in and information about that character. There have been a number of Flipdecks about customers in the Papa's -ia games.
Flipdecks about Flipline Customers
Flipdeck 02 - Wally
Flipdeck 04 - Jojo the Food Critic
Flipdeck 06 - Kingsley
Flipdeck 08 - Quinn
Flipdeck 10 - Timm
Flipdeck 12 - SargeFan!
Flipdeck 14 - Little Edoardo
Flipdeck 15 - Papa Louie
Flipdeck 16 - Delivery Boy Roy
Flipdeck 17 - Captain Cori
Flipdeck 19 - Gino Romano
Flipdeck 21 - Big Pauly
Flipdeck 23 - Greg
Flipdeck 25 - Marty
Flipdeck 27 - Hank
Flipdeck 29 - Nick
Flipdeck 30 - Rico
Flipdeck 32 - Foodini
Flipdeck 34 - Yippy
Flipdeck 36 - Kahuna
Flipdeck 37 - Doan
Flipdeck 38 - Olga
Flipdeck 40 - Georgito
Flipdeck 42 - Mindy
Flipdeck 44 - Boomer
Flipdeck 46 - Penny
Flipdeck 48 - Bruna Romano
Flipdeck 50 - Akari
Flipdeck 51 - Pinch Hitwell
Flipdeck 53 - Carlo Romano
Flipdeck 55 - Johnny
Flipdeck 57 - Clover
Flipdeck 59 - Hugo
Flipdeck 61 - Allan
Flipdeck 63 - James
Flipdeck 65 - Zoe
Flipdeck 67 - Mitch
Flipdeck 69 - Connor
Flipdeck 71 - Utah
Flipdeck 73 - Robby
Flipdeck 75 - Rita
Flipdeck 77 - Shannon
Flipdeck 79 - Kenji
Flipdeck 81 - Wendy
Gallery